Cassida 5520 UV MG Back Loading Simple Bill Counter Machine
Actual Stock Can Be Confirmed After Placing the Order.
Authorized Cassida Distributor.
Onsite Warranty for 01 Year After Purchase.
*Terms and Conditions Applied
Cassida 5520 UV MG. Count multiple currencies including AED, USD, EUR, etc.., accurately and reliably regardless of currency condition.
PRODUCT OVERVIEW
Cassida 5520 UV MG
Cassida 5520 UV MG now has enhanced Ultraviolet and Magnetic Counterfeit Detection capacity. Equipped with advanced features, it is now sophisticated and trusted UV/MG option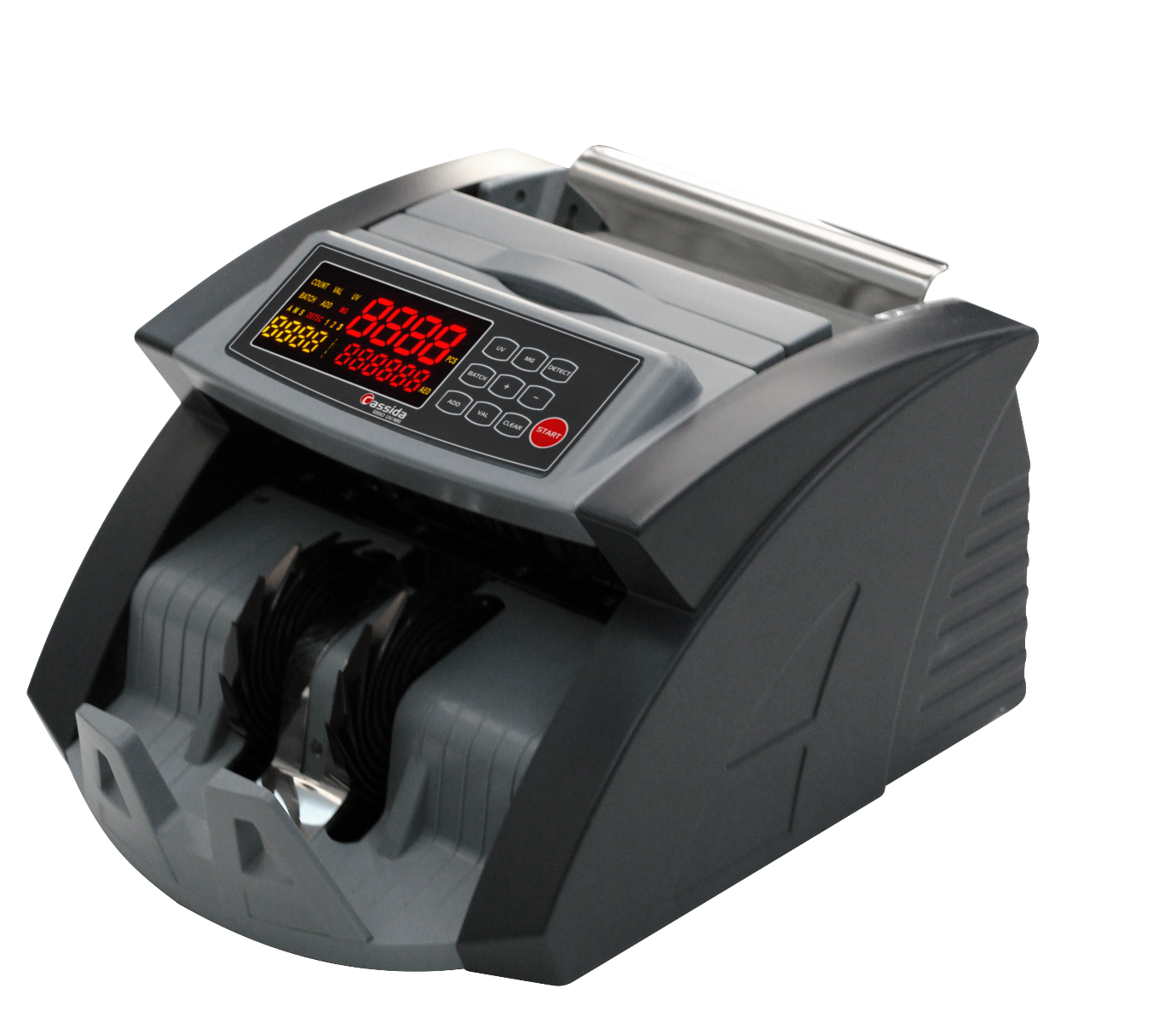 Advanced
Cassida counting equipment uses the latest technological advancements available in the industry. All Cassida machines utilize Infra-Red technology which maximizes currency counting accuracy as well as half and double note detection.
User-friendly
While Cassida machines are sophisticated pieces of equipment, end users don't need to worry about its intricacies. The machine is easy to operate with simplified controls and functions.
Counts, adds, and batches
Even at 1300 bills/minute, Cassida 5520 counts accurately and reliably. The 'add' mode counts multiple stacks while keeping track of the total and can batch up to 100 bills is easy.
Mobile and time-saving
Accuracy, reliability, and ease of operation are not the only advantages of using Cassida 5520. It is lightweight and compact and has integrated handle thus it is mobile and can be used anywhere integrating to any business environment requirements. Most importantly, it saves cost of time as it is ready to take on a variety of cash-processing jobs.
Reliable
Operating environments vary greatly, and so do individual needs. Should your business require more protection, models featuring both magnetic and ultraviolet detection like 5520 UV/MG are available to protect you from now advanced fraud activities.
More Information

| | |
| --- | --- |
| Product Name | Cassida 5520 UV MG Back Loading Simple Bill Counter Machine |
| Counterfeit Detections | UV / MG |
| Dimensions (WxDxH) | 10.9" W x 9.9" D x 6.2" H |
| Weight | 2.44 Kg |
| Manufacturer | Cassida |
| Color | Black |
Shipping Worldwide

Yes, that's right, we do!
Compare Products
You have no items to compare.